Here's a little article from Oregon Live 2014, we've grown a lot since and wow! Check out our old labels!!
In 2007, Joe Meinhardt, a Seattle native, was developing his own chai, when he met Josh Parker, the owner of Coffee In Motion, a string of organic coffee shops in Salem. Meinhardt had been making the tea for Parker's company. One day, Parker asked if he could make coffee syrup.
A self-described entrepreneur, Meinhardt didn't know what he wanted to make.
But he knew the coffee industry. For years, the 60-year-old worked in project development for specialty coffee roasters like Coffee Bean International and Bridgetown Coffee. To keep the money flowing, he built after burners and gas-powered espresso machines for coffee roasters in the Portland metropolitan area.
Meinhardt tried his hand at making syrup. Despite what he described as a "steep learning curve," Parker enjoyed his product.
Syrup, he said, was "a whole lot more complicated than mixing water, sugar and a flavor together."
He landed his first client.
For the next decade, he searched the Internet, searching for water tanks and equipment at a fraction of its true value. With that equipment, Meinhardt built his own bottling and labeling machines and began producing on a smaller scale.
Tucked away in an industrial building on Cedar Street and 23rd Avenue, Meinhardt now produces his own organic and all-natural coffee syrup called Joe's Syrup. After earning his state certification to bottle and label his products as "organic" last summer, Meinhardt began reaching out to sellers for wholesale distribution.
Joe's Syrup offers 10 different flavors of organic coffee syrup and hopes to introduce four more flavors. Meinhardt's syrup comes in 14 different all-natural flavors. (Edwin Rios/Forest Grove Leader)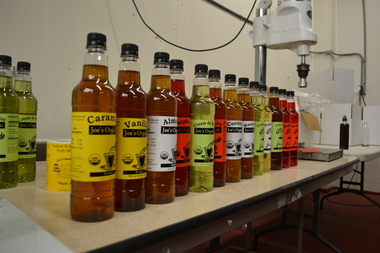 His syrup comes in 10 different organic flavors, which includes a seasonal Candy Cane Mint for the winter months. He plans to introduce a low-calorie organic syrup, as well as four more organic flavors, in the coming month: dark chocolate, cinnamon, amaretto and butterscotch. The syrup also comes in 14 all-natural flavors.
He sells his syrup to restaurants and distributors in Salem, Knoxville and Memphis, Tenn., and New York, with the hopes of expanding his business. He said he is in talks with distributors in Portland and in the Seattle area.
He said he hopes his syrup can fill a niche in the Pacific Northwest and compete with syrup staples like Torani, offering what he says is a better quality product at a lower cost.
Meinhardt's family moved to Forest Grove last year, not for business, but for his daughter, Nickey. Meinhardt said he searched around different school districts, hoping to find the right place for his daughter, who is autistic. Then, in Forest Grove, he found Joseph Gale Elementary School, where Nickey would work with Jill Hertel, a teacher there at the time. She now works for Forest Grove High School and coordinates its Unified Sports program.
In Sept. 2002, when his daughter was six months old, Meinhardt's wife, Melanie, discovered she had breast cancer.
"It changed the game," Meinhardt said. "I couldn't work in management at a big company. I had two kids in diapers, the wife with chemo. It changed everything. After she passed away, I had to take care of kids."
Over the next five years, as Melanie's condition worsened, Meinhardt began taking over care of the kids. He had to make a decision. Do you stay in management, make a lot of money, and let someone else take care of the kids? Or do you get by on less?
"My full time real job is being a daddy," Meinhardt said. "The other stuff is just so we have a place to sleep."
He stopped working for Bridgetown Coffee and started Poco Drago in 2002, where he built and maintained gas-powered espresso machines for local coffee roasters. At age 42, Melanie died in 2007, the same year the family moved to Forest Grove.
Now that his children are older, Meinhardt said he has the freedom to work for hours throughout the day on his product. He tries not to do as much repair work, but he and his 14-year-old son, Joel, can produce up to 32,000 bottles in a month, depending on what inventory Meinhardt needs to refill. Since Meinhardt started his company last year, he has sold nearly 5,200 bottles, he said.
-- Edwin Rios
Joe's Philosiphy and motive.
Make the best possible ORGANIC syrup so you can make the best possible Café Latte, Mochas, Italian sodas and cocktails.
Formulation: In developing a flavor profile a nice starting point is the competition. Joe believes that Organic shouldn't mean sacrificing quality. The first priority is To make sure we are the best! So they are tested in coffee, latte's and Café mocha's, even italian sodas.
Preparation: Once we are happy with a flavor profile, and you are happy with the flavor, we must make sure that each and every bottle tastes as good as the original test in the lab. To that end, Joe personally tests each batch!